Sheila Garcia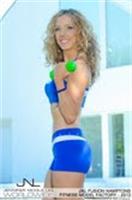 Sheila Royce Garcia, CFT, CMT, CHHC she is a Certified Personal Trainer through the fully accredited International Sports Science Association , Certified JNL Fusion Instructor and Master Trainer, two time JNL Fitness Model Factory Alumni and Ezine Article Expert Author and writer for Special-ism. Sheila has a private health coaching business, Sheila Fitness ~N~ Healthy Lifestyle, LLC and graduated from the internationally recognized Institute for Integrative Nutrition of NYC, the world's largest nutrition school. Furthermore, she has a degree from Penn State University and is an expert in Gluten and Casein Sensitivities, Weight Issues, Plant-Based Diet and Raw Food Lifestyle. Most of her clients are busy moms and professional women who are struggling with weight issues and creating functional balance in their lives. In addition, Sheila has an interest in working with parents who have special needs children to help support them on their child's nutritional journey. Sheila is a devoted wife and mother of a beautiful little boy who has Autism. She moved to the Bucks County area a year ago with her husband of 15 years and son to give her child an appropriate education. Sheila is really passionate about supporting and educating busy moms, professional women and their families on living an active lifestyle and rediscovering healthier eating habits. She believes every woman and mother has the power to create the life they want.
CPR/AED Certified through Health Starters
Sheila Garcia is currently not instructing any classes.